News Information
Mae Rim is a district only about 15-30 min drive from Chiang Mai city yet is is filled with many interesting places such as temples, a palace, nature, tourist attractions coffee shops and restaurants.
It's also home to one of Chiang Mai's most prestigious international schools - Prem Tinsulanonda International School (PTIS). There is also an 18 hole golf course, Summit Green Valley, which is only 15 minutes drive from Nimman area in the city.
Residents in Mae Rim love the close proximity to both Chiang Mai City and nature. Just a short drive will take you to town where you'll find a great market, a community mall and a large supermarket, Makro. There are many excellent cafes and resturants in the area. The city is only about 30-40 min drive away.
Nature is also very close. The scenic Mae Rim - Samoeng mountain route is dotted with many tourist attractions such as Mae Sa Elephant Camp, Tiger Kingdom, Elephant Poo Paper Park and many resorts and cafes.
If you want to visit less touristy sites, here are 5 hidden gems to explore in the area:
1. Queen Sirikit Botanical Garden (QSBG)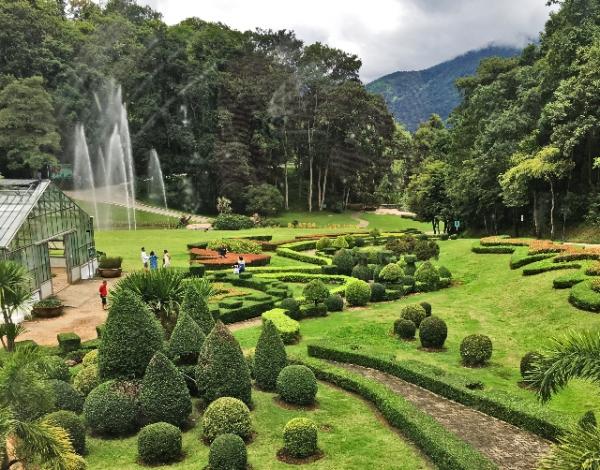 Set on the edge of Doi Suthep - Doi Pui National Park, QSBG's main attraction is the complex of glasshouses showcasing a large variety of flora. There are also a variety of nature trails and a new treetop sky walk. You could spend a day here at Queen Sirikit Botanical Gardens and I'm happy to come back here whenever I get a chance.
At the Glass House Complex car park, there is a coffee shop, a great souvenir shop and also a nursery selling plants at very reasonable prices.
Need cash? There are some ATM machines at the entrance of the botanical garden.
Opens daily: 8:30am-5pm
Website: Queen Sirikit Botanical Garden
2. Dara Phirom Palace Museum
This is a fantastic small museum at the residence of Princesss Dara Rasmi, who was a royal consort of King Rama V. After the passing of the king, the princess returned to Chiang Mai and became very active in helping to Thai culture, particularly in the arts, music and textiles.
The museum has information about the royal family and history of the North of Thailand as well as exhibiting articles belonging to the princess, including textiles (not to be missed!).
The grounds is also well kept and has a lovely rose garden. There is no entry fee and many locals come here to do their evening exercises.
Opens daily except Mondays: 9am-5pm
3. Wat Pa Dhara Phirom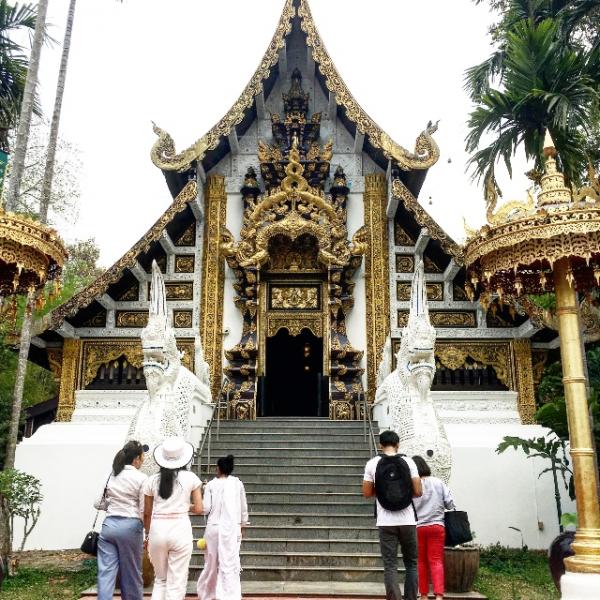 Wat Pa Dhaka Phirom is a beautiful, ornate old royal temple built in 1938 and is situated close to Mae Rim town and Dara Phirom Palace Museum. The templed is named after Princess Dara Rasmi.
4. Pongyang Ang Doi Restaurant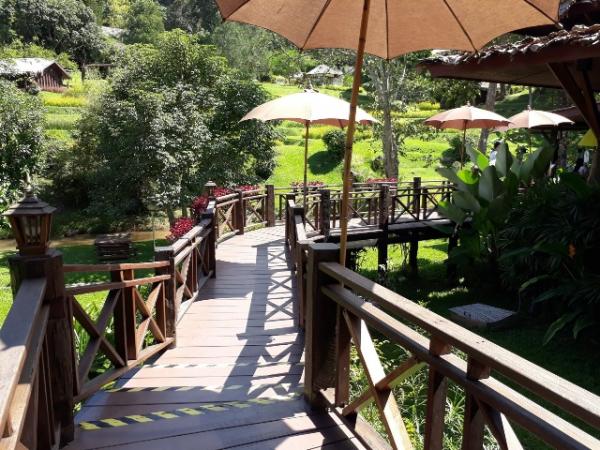 This is a lovely restaurant on the grounds of Mae Sa Valley Resort. You can sit on the terrace overlooking rice terraces and stream / waterfall. The restaurant offers Thai food and some Western dishes. Thai food here is very good. Try the Gang Hung Lay (Burmese curry) and deep fried sun-dried pork.
Opens daily:
Monday - Thursday: 10:30am-8:30pm
Friday - Sunday: 10:30am - 9:00pm
Facebook page: Pongyang Ang Doi Restaurant
5. Mae Sa Water Fall
This beautiful 10 level waterfall is a part of the Doi Pui-Doi Suthep National Park and is on the tourist route where you'll find Tiger Kingdong, Mae Sa Elephant Camp and Pongyang Ang Doi Restaurant. Here, you can walk up the waterfall, relax amongst the trees or go for a dip in the pools. There are also food vendors around too so you won't go hungry!
You're also able to hire tents to camp overnight at the waterfall.
The waterfall is easily accessible from the city and Mae Rim. There is water all year round, but do be careful of flash flooding in the rainy season after heavy rain.
Do bring an insect repellant as well!
Entrance fees:
Thai adult: 20 baht. Thai child: 10 baht
Foreigner adult: 200 baht.
Parking: 30 baht/car
(Foreigners with a Thai driver's licence may be able to pay the Thai price).
Would you like to live in Mae Rim?
Here are our top 4 properties for sale in Mae Rim.
1. Immaculate 5 bedroom family home with a large garden near Green Valley Golf Course and PTIS School.
2. Countryside Villa With Gorgeous Mountain and Ricefield View + and Amazing sunset!
3. Comfortable 3 Bedroom Home with a large, private garden in a community close to PTIS School
4. Single storey home with plenty of outdoor living space and a beautiful, large garden near Green Valley and PTIS.
If you'd like to view any of these properties or need more information, please contact us!